We are back in Paisley once again this year, delivering the ever popular Paisley Halloween Festival.
We are delighted to have been invited back by Renfrewshire Council for the fourth time. The theme for the festival this year is 'Gothic' and we will be bringing a packed programme of installs, walkabouts and staged acts.
What's On?
Enter our halloween playground via haunted gates and make your way around the streets of Paisley. Visit Frank & McSteins Fire Show where you can try your hand at bringing their monster to life! Next, enter our Spooky Bat Cave and Raven's Realm, inspired by Edgar Allan-Poe's 'The Raven'.
Festival favourites Spark! LED Drummers and Pyroceltica will be back, plus sword-swallowing, stilt-walkers and community music and dance performances.
Scotland's own All or Nothing will also be back this year, creating another bespoke aerial show. With flying coffins, vampires and giant chess pieces… this promises to be one of their best performances to date.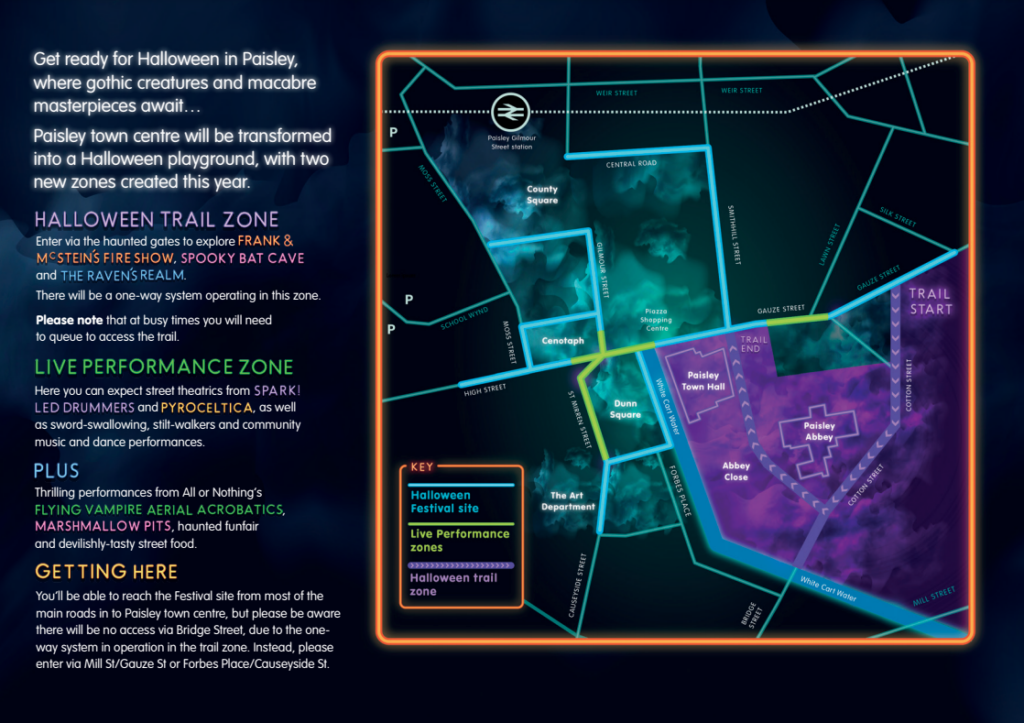 Community Involvement
As with previous festivals, we've teamed local Scottish artists up with schools and community groups around Paisley. They are working together to create pieces of artwork that will adorn our bat cave and other installations. A group are also putting together a 'despicable dance' piece that will be performed each evening.
Visit us!
This event is one of the biggest and best of its kind in the UK. And it's free!
It's on from Thursday 26th to Saturday 28th October, 5-9pm each night. If you're around in the area, do pop along and check it out. You won't be disappointed…
Previous Festivals
We love returning to Paisley each year and delivering a new and exciting festival.
Take a look back over the previous years and see what we've been upto:
2019 – 'Dark Circus'
2021 – 'Out of this World!'
2022 – 'Heroes, Myths and Legends'