We have had the joy of working with the Camp Bestival team for nearly 10 years now and it is always a highlight in our show calendar. We help animate the area Caravanserai and this year we were invited to create a large scale finale show for the Saturday night. This gave us an opportunity to devise a brand new show and also proved to be quite a momentous occasion for one of our artists.
Caravanserai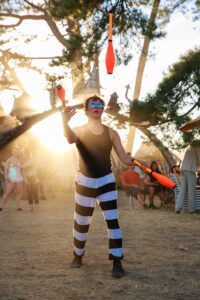 Caravanserai is your living room and the stage is the fireplace. Warm your hands on the vibes of the flames

Chris Tofu
Caravanserai is the festival within a festival. Created by Pete Bateman, the space is filled with installations and dilapidated leftovers – abandoned waltzers and rusting caravans take residence here. This is the place to drink cocktails and watch some late-night cabaret or trapeze.
One of the highlights in our Caravanserai programme is the Circus Cafe. Our maitre'd works their way through menus comprising of frogs legs, banana splits and trifle towers. As items are ordered by the crowd, students from Circomedia emerge to deliver the requested meal. Needless to say the audience member never quite gets what they bargained for!
High Wire Finale – 'Sleepwalkers'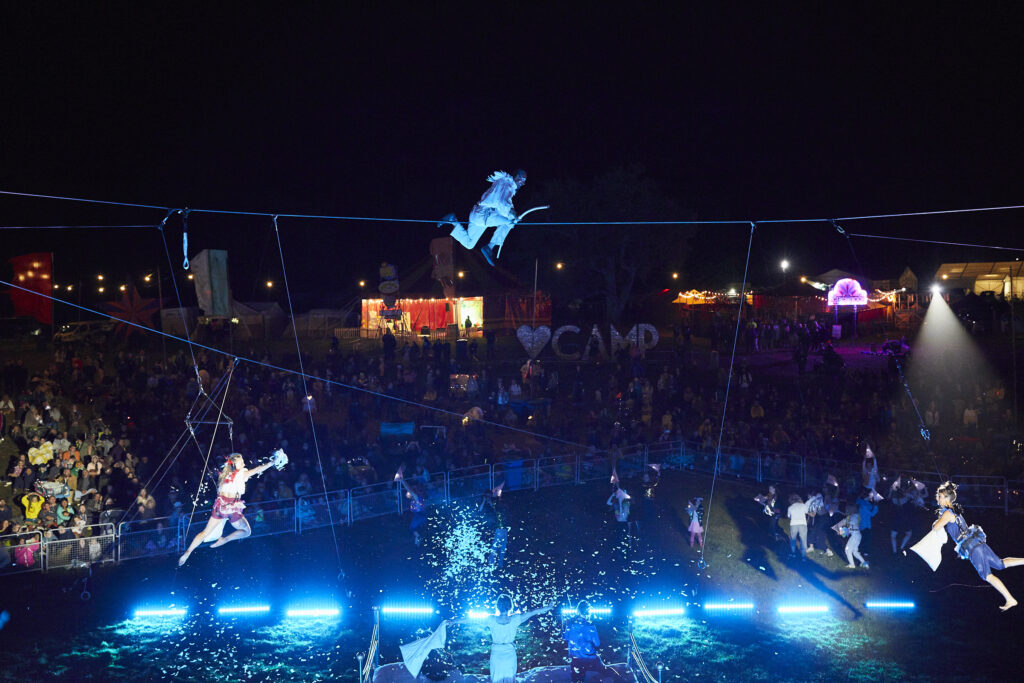 This year we also had a prime slot on the festival's Saturday night, where we premiered a brand new high wire show.
Our artistic director Billy Alwen created a mesmerising show around the theme of sonambulism (sleep walking). Our central character played by Mahri Taaffe dreams of flying. From her bed, she is joined by two aerialists who proceed to fly around her. Inspired and enthralled by them, Mahri joins them on the wire – realising her dream of flying.
Featuring lanterns, feathers and some beautiful specially-composed music, the show culminates in a solo wire walk by Mahri. Not only was this a big deal in the narrative of the story, but this was also Mahri's high wire debut!
I never thought in a million years I'd be able to perform this. I felt sick with fear every time I thought about it.

Mahri
With the help and guidance of wirewalking pro Chris Bullzini, Mahri was able to overcome her fears and put into practice all her hard work and endless hours of training.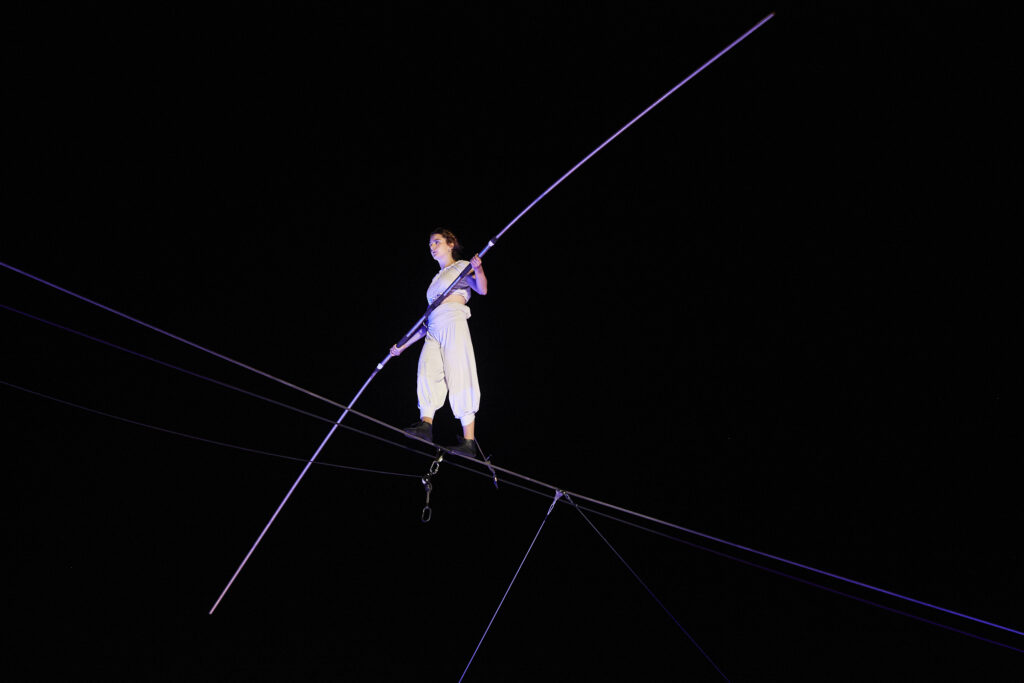 More to Come
The Camp Bestival team have just announced a second festival for 2022, taking place in Shropshire in August. We are already busy working on a new disco-themed high wire show for the festival, and we can't wait to see what else they have in store for everyone!
Tickets for both festivals are now available on the Camp Bestival website.