We at Cirque Bijou are no strangers to a challenging brief, and creating work amid a pandemic has been just that.
Our back catalogue from the past 20+ years is full of big, bold shows. These often require us to think outside the box to offer innovative solutions for the most fiendishly challenging problems. This experience has helped us as we start presenting live work again this summer.
Health and Safety is always a central concern when devising and putting on any of our shows. Fire performances onstage with rock stars. Wirewalkers scaling a 40m tightwire over a river without safety lines. 2000 community participants wading into the sea with flaming torches… we relish the challenge of making the impossible, possible.
COVID-19
COVID-19 has presented new challenges for all of us. We have needed to look again at how we work, and the measures in place to ensure everyone's safety.
Last September we put on our own performance using our fantastic (and very appropriate for social distancing) umbrellas. This was the first work we produced during the pandemic, and the enthusiasm from our participants was really inspiring.
Getting all the key pieces of paperwork in place for each job is very important. Detailed risk-assessments, self-assessment forms and sign-in sheets are now more important than ever. PPE too, is something we all have to think about on a daily basis. We enjoyed working with our fantastic costume and make up artists to create PPE that doesn't just fulfil a safety role, but looks great too.
More recently, we put up a Big Top tent in June, thanks to ACE and DCMS Cultural Recovery Funding, which gave us further opportunity to experiment with presenting COVID safe events.
During the fortnight the tent was up, our dedicated COVID officer was on site ensuring all artists and crew remained safe. After each event, surveys were sent to artists, crew and attendees. We gathered feedback on how they thought the event was run and the safety measures that were in place.
These experiences have made us feel very confident about putting on events during the pandemic, and going forward. We have the policies, we have the experienced team, and we have the conviction to carry on creating beautiful shows. As long as we are allowed to bring live work in some form to an audience of some kind, we will work out a way to do it well and do it safely.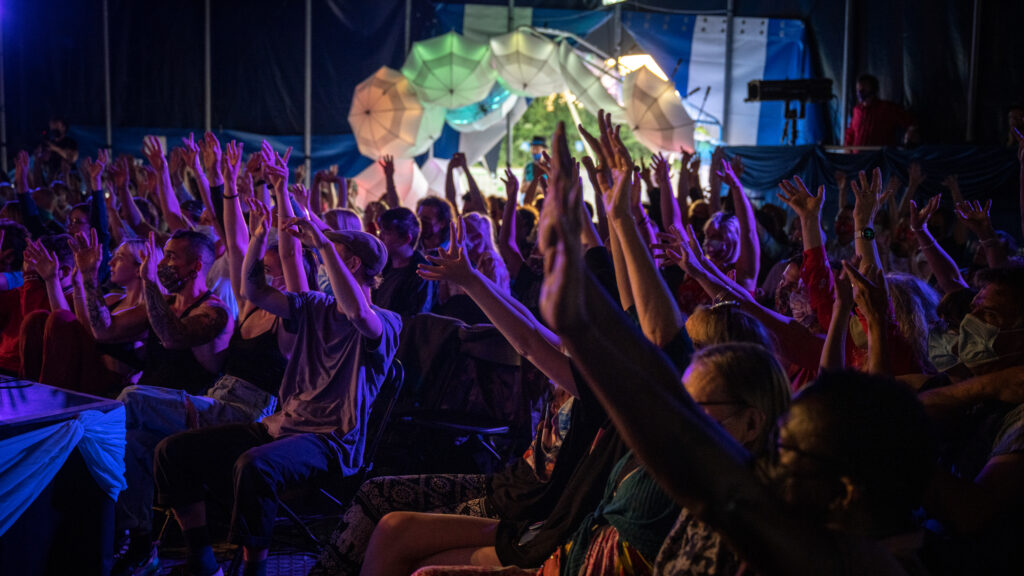 Watch clips from some of our spectacular shows on our YouTube channel.