Back in June we had the pleasure of working with Quays Culture in Salford, producing a brand new show for them with participation at its core.
Way Above The Houses was a show created with, and for, the people of Salford. We started working with the community right from the start – not only were they part of the show, they helped shape it.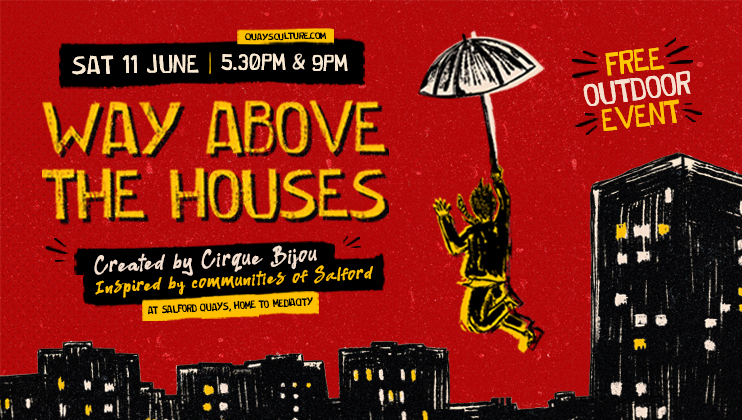 Workshops
The key theme of the project was 'home' – the places we live and the community we are surrounded by. Our Participation Producer ran workshops gathering stories and responses from local people about their experience of home. We asked what Salford meant to them – what's special about it? What makes it unique? We then wove this information in to the music of the show (created by long-term collaborator Ted Barnes).
Participation
For those wanting to get involved in a more practical sense, there was also the option of joining our community choir and Umbrella Project.
Advertised to anyone around the Salford area, the choir offered the chance to perform as part of the event. Local voices came together to contribute to this unique soundscape, singing along to music specifically composed for the show.
Likewise, our Umbrella Project workshops meant anyone aged 12+ could get involved in the show. Learning simple choreography from our experienced choreographer, they came together to create a kaleidoscope of moving lights and colours.
The Show
The outcome of bringing all these different elements together was the fusion of music, performance and choreography, telling the story of Salford and the people that live there. Way Above The Houses became a celebration of Salford and its stories. That the community were involved right at the start and throughout meant the show was lead by them and their voices.
Inspired?
If you're looking to create something similar where you live, please do get in touch with us. We can work with you to create a unique show with, for and about your local community.
Email us, or give us a call on 0117 902 9730. We look forward to hearing from you.
Photo Credits: Chris Payne