We're very proud to have been working with Camp Bestival for many years now. As well as programming the circus in the area Caravanserai, in the last couple of years we have also been asked to create the finale show for the festival.
Disco Inferno
Last year we created Sleepwalkers, a high-wire spectacular about somnambulism. This year, with the festival's theme of Disco, we made not just a show but an intergalactic, 70s-inspired love story.
With the disco theme the soundtrack was obviously one of the first things to decide upon. Artistic Director Billy Alwen, working alongside Camp Bestival, had the daunting task of whittling down our long list of suggested 70s bangers to a handful of tracks that would fit our story line.
Then, working with choreographers Nandi Bhebhe and Extraordinary Bodies' Claire Hodgson, we brought together a talented, diverse cast of dancers and aerialists to bring this story to life.
The story starts with a group of dancers, grooving around the stage to I'm Coming Out by Diana Ross. The music changes and suddenly space aliens appear! Performing on our crane ring above our heads, they illuminate the night sky with their LED costumes and elegant (sometimes gravity-defying!) moves. As the last bars of I Feel Love by Donna Summer fade out and Yes Sir, I Can Boogie by Baccara begins, one of our celestial beings descends down to the dance floor. So begins a romance between her and Daryl, one of our earthbound dancers.
The show culminates in a joyous, all-dancing finale, with space and earth beings alike celebrating and grooving along to I Lost My Heart To A Starship Trooper. After an epic lip sync to Eartha Kitt's I Will Survive with Drag Queen Soroya Marchelle taking centre stage, the show ends with everyone singing and dancing along to We Are Family by Sister Sledge.
The Dream Team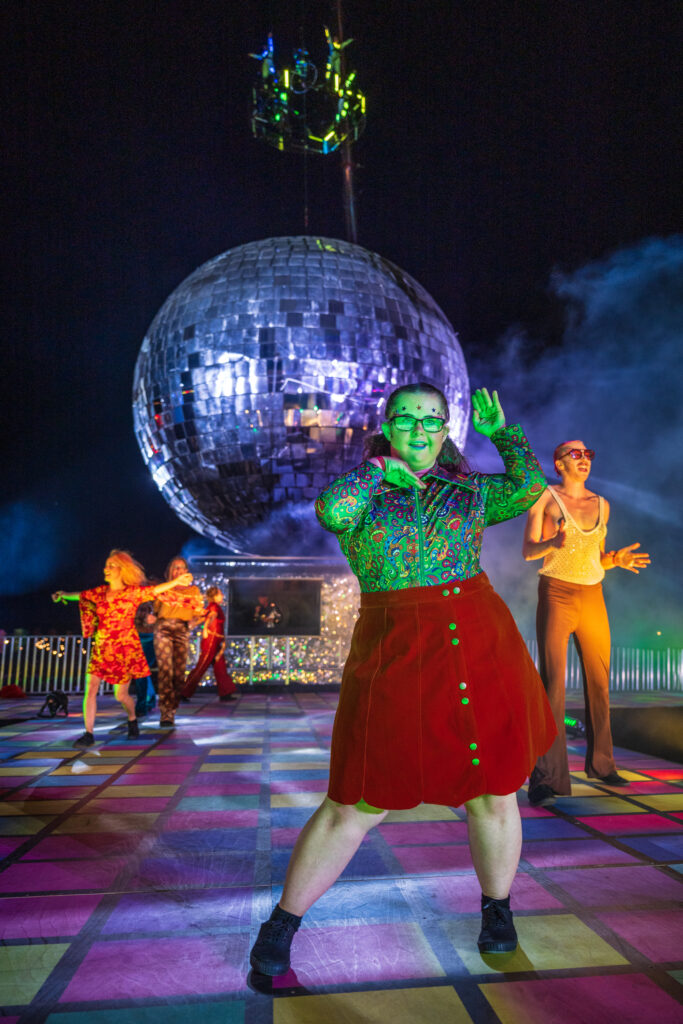 One of the things we enjoyed most about putting this show together was getting to work with such a talented cast and crew.
Choreographer Nandi previously worked with Diverse City on Mid Life, and her and Claire brought the show to life with their mix of classic 70s grooves alongside robotic, alien-like movements.
Our dancers included Jessica Skelton – a performer who came to us via Extraordinary Bodies Young Artists. She was joined by Drag King Frank, Drag Queen Soroya Marchelle, Daryl Beeton (who also performed with Extraordinary Bodies in Human) and a host of other incredible dancers.
Performing above the stage on our crane ring, our exceptional aerialists jumped and circled above our heads. Rosie Rowlands (another artist who worked with us on Human) showcased her aerial hoop talents, working with director Billy to create the duet with Daryl.
Costumes were sourced and made by local Costume Designer Lara Skowronska.
World Record Holders
Our finale show wasn't the only highlight for us at Bestival this year, we also became WORLD RECORD HOLDERS! Previous disco-dance champion Claire Hodgson led the festival in the World Record attempt for the largest disco dance – and we did it! Over 300 festival goers came together on the Saturday morning, with pre-learned choreography to 'We Are Family'.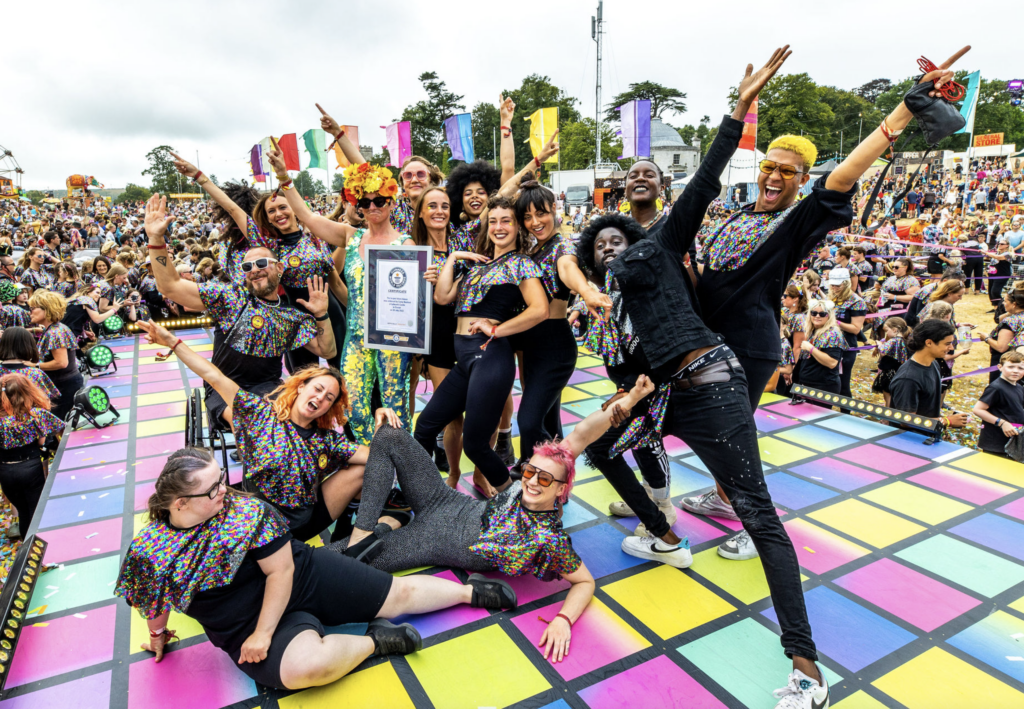 On To The Next One..!
It's safe to say we had the absolute best time creating this show and performing it live in front of the wonderful Bestival crowds. It was such a celebration of dance, song and togetherness.
Discussions have already begun on what we can do for next year, so watch this space.
Looking to put on your own festival finale, or show spectacular? Get in touch!
Photo Credits: Andre Pattenden